Products recommended and used by us.
Extend your outdoor entertaining season and take the chill off those cool spring or autumn nights with the warm, radiant heat of a Patio Heater.
This select group of high–quality, yet reasonably priced vendors has come together to provide all Canadians with the opportunity to live the dream and enjoy the outdoor oasis of their dreams, just steps away in their backyard.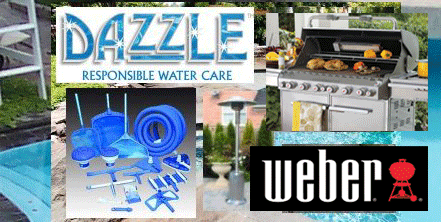 Northeastern Swimming Pools Distributor – http://www.nspd.net
With over 80 years experience, Northeastern provides Canadian Pool Retailers with the finest pool and aquatic products. The Pool & Hot Tub Council of Canada named Northeastern the winner of the prestigious award of Supplier of the Year for 2009.
Megna Pools – http://www.megnapools.com
Leading the industry with in-ground steel wall kits and vinyl liners. Check out Megna's
web site for their extensive liner choices.
Pentair - http://www.pentairpool.com/index.html
Saving you energy, time and money, and providing you with leading technology in all sorts of pool products.
Raypak - http://www.raypak.com
The most reliable and efficient pool heaters on the market.
Dazzle – http://www.dazzlewatercare.com
Proof that Man and Mother Nature really can coexist. There's simply no healthier, more natural way to care for your pool or hot tub. Click here to read more or visit their website.
Mineraluxe – http://mineraluxewater.com
A bromine or chlorine system to take the stress out of your hot tub care with just one cube! These luxurious products leave your skin feeling soft and smooth, while helping you balance your water.
Pristiva - http://pristiva.net
The right choice for your salt water pool. A program developed specifically for salt pools, that will help prolong the life of your salt cell and equipment and protect your pool against stains, scale, corrosion, algae and cloudy water.